WhatsApp FM is WhatsApp at the core with additional features. If you have an idea of MOD apk, then you will get this. In case you don't, then MOD apk is a file or app with additional features. Sometimes it can be in terms of features, and sometimes, it can make the app ad-free and premium support. Now, WhatsApp FM is one of the most popular MOD versions of the original WhatsApp. Also, for those who are wondering, WhatsApp FM is 100% safe and free to use.
Now, in terms of features, there are a ton of them. But, to keep it short, it brings multiple customizability features for colors, backgrounds, themes, fonts, and more. In the same way, there are some features targeted at user privacy and productivity. Overall, you may even consider switching to this version in place of the original one. So, here is everything to know. Also, how to download WhatsApp FM without losing any required data.
---
How to download WhatsApp FM latest version in 2021:
Before getting to the part on how to download it, let us look at some highlighting features. First, you can ghost view any person's status without letting them know that you did. This feature is useful in case you want to have an eye on your loved ones or friends. Also, you can hide the delivered status and blue tick on your contacts. Luckily, you can still view the other person's status update. Last but not least, you can even hide the action of typing and recording audio.
Another thing that is worth mentioning in WhatsApp FM is that it makes your life easier. Remember the situation where you have to send a one-time message to any stranger or far known person. In that case, you have to save his/her contact, refresh the contacts page, and send the message. But, with WhatsApp FM, you can send anything to any mobile number. This feature is available on iOS for quite some time now, but for Android users, you can also do this now.
Moving on, you can filter the contacts that can call or chat with you. It is more like the WhatsApp version of blocking any number. Some other features include up to 1 GB file transfer, disable forward tag, 100+ theme styles, 30+ blue ticks, chat bubbles, large emojis, two accounts on the same device, and more.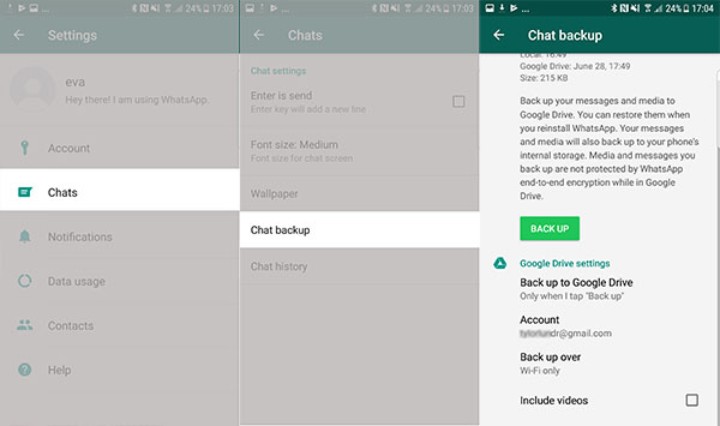 How to Install WhatsApp FM:
Now, to install WhatsApp FM first, you need to backup your data.

Navigate to 

Three dots menu -> Settings -> Chats -> Chat Backup. 

In this section, select your Google account, data, chats, videos, etc., and tap on Back up.

Till the time it backups, download the APK file from the link below and install it.
Do note that you have to enable installation from unknown sources. In the end, enter the same mobile number, google account, etc., and import all your data. 
Download Links for WhatsApp FM:
---
Conclusion: 
In summary, WhatsApp FM lets you do quite a lot of things that the original version does not. Also, in this APK the power is in your hands. So, make sure to give it a try. Follow the above steps and install the app on your device. If you found this article helpful, then share it with your friends and family network.