A good user interface of an OS makes the experience a whole lot better. These days, almost all the OEMs use their own custom OS on their smartphones. Samsung does a great job with its custom OS. One UI is one of the most beautiful custom skins for Android devices. It also comes with loads of features for users. One more thing that makes things interesting is the availability of a bunch of customization that Samsung provides in its devices. You can level up the game further by using Good Lock. Talking about customization, custom fonts are some of the basic changes that everyone does. Even you can install a lot of custom fonts on Samsung phones.
There are around 5 to 6 stock custom fonts that come out of the box in Samsung devices. Some of these look good but there are a lot of other fonts that look way better than these stock fonts.
Custom Fonts on Samsung Phones
No, you can not get all those latest and free fonts from the Galaxy Store or theme store. However, you can look up on Google for any fonts that you like. Pretty much any font that is available comes with a .ttf extension. However, you won't be able to install these files directly on many smartphones. So, how do you do that? The process is very simple and all you need to do is download a few things and follow the step by step process given below. Before proceeding with that, you can also check out a lot of cool fonts on Google fonts. You will find pretty much everything in there.
This tutorial will show you how to install ttf fonts on android without root access. Isn't that cool? After this, you will be able to install lots of custom fonts for Samsung devices. A lot of people keep wondering how to install fonts on Android. Well, the answer is here. First of all, you will need to download the Wings font theme apk and Wings fonts theme installer. You can download these apps from the link given below.
This process works fine on every Samsung device running Android Pie/One UI or later. The good thing is the Wings app comes with loads of custom fonts preinstalled in it. However, you can get the ttf file for the font of your choice from the internet. Now that you have downloaded the apps and ttf file for the fonts, you can follow these steps given below.
STEP 1-
After enabling USB Debugging on your smartphone, download the Wing's Font APK app from above (Download it on your PC and then transfer it to your phone to avoid any parsing error). Install the Wings font manager APK by allowing the necessary permissions.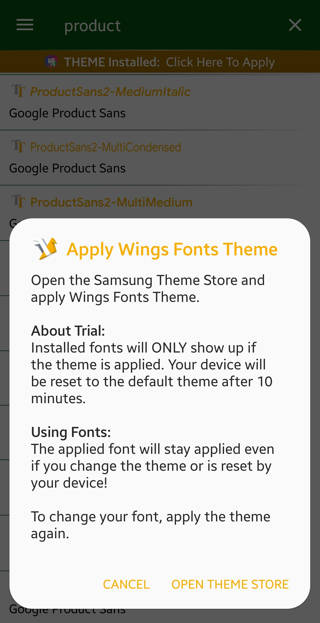 STEP 2-
After opening the app, it will instruct you to install the theme. Connect your smartphone to your PC through a USB cable and copy the Wings Fonts Theme Installer to the ADB folder on your PC. Open the Wings Fonts Theme Installer EXE file on your PC. Do not disconnect your phone during this whole process.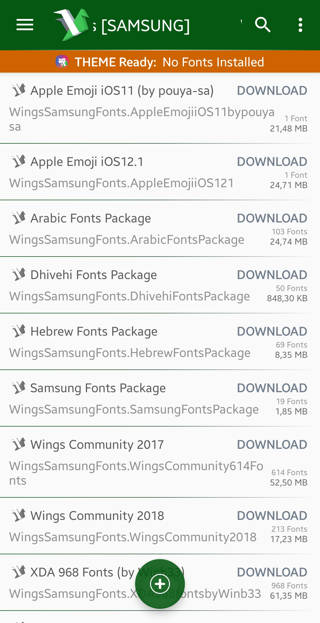 STEP 3-
Run Fonts installer and click on "install theme". You will now have the theme installed on the Theme Store on your Samsung device. Open the theme store and apply the Wings theme by tapping on "try it out".
STEP 4-
After applying the theme, open the Wings Fonts manager app on your phone. Choose any font that you like from the list and download it to install the font on your device. The app will create an apk file of the font app which you can easily install on your android device.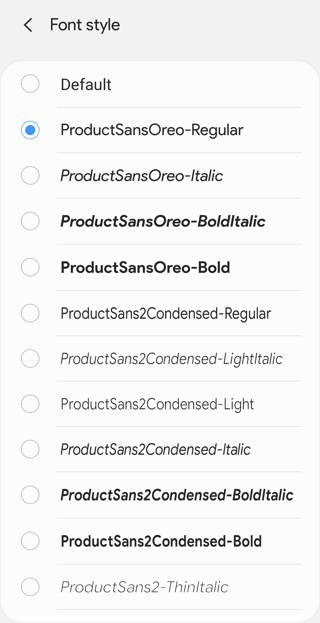 STEP 5-
Restart your device and then go to Settings. Look for the fonts menu and select 'apply'on the font that you want to apply on your device.
That's it. You now have your favorite custom font installed on your Samsung device. Wasn't that easy? So, what are you waiting for? Go ahead and start applying your favorite fonts on your Samsung device.
Stay tuned for further updates on custom fonts on Samsung phones and more such related content. Also, share this article with all those people who have been looking for how to install fonts on Android devices.
---
SEE ALSO: