Tachiyomi is an amazing, free, and open-source app for manga reading. In case you do not know, manga is the anime form that originated in Japan. So, with the help of Tachiyomi, you can read your favorite manga right on your device. Apart from this one, there are some other options as well. These include Mangadex, Kiss manga, and more. On that note, let us have a look at what makes Tachiyomi so special and how to download it on Windows or Mac.
Before getting to the how-to part of the installation, let us look at the essence of the app itself. First of all, Tachiyomi is an Android app that works as a manga reader on your device. For this to work on your device, you require at least Android version 5.0 Lollipop or newer.
---
ALSO SEE: How to Download Tachiyomi for Android/iOS (Guide & Links)
---
Coming to the features, the very first thing is it has no ads at all. No subscription pop-ups, unnecessary notifications, or any such kind at all. It is a clean and simple app that only comes in place whenever you want to use it. Also, with this app, you get a huge library of different manga from various creators and genres. So, it is highly likely that you can find your desired ones covered.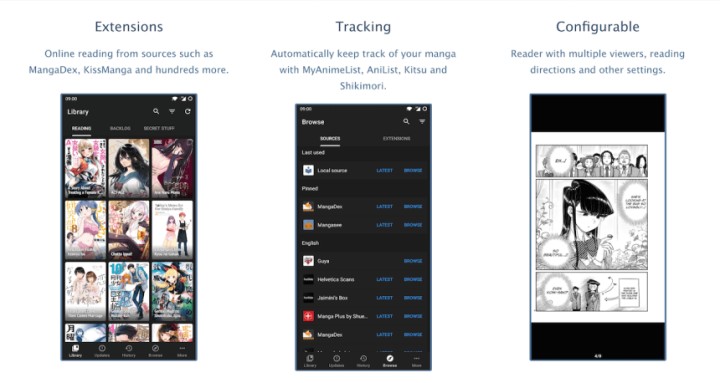 Not just the one you want to read from the library, you can also access any compatible manga files right from your local storage. Also, it has native support for Anilist, Kitsu, My Animelist, etc. Not to mention, for those who read late nights lying on the bed, it has both light and dark modes. And in case you are such a kind who messes up things, then this app will help you out. You can organize all your favorites neatly with proper labels and categories.
One of the major highlights that surely deserves a mention is scheduled downloads. You no longer need to wait for the entire file to get downloaded. Just start downloading one chapter and while reading it download the rest along. Not just that, you can schedule the time when you want them to download. Just for your reference, you can have a look at the v0.10.6 summary.
---
How to Download Tachiyomi on Windows or Mac:
Natively, this wonderful app is made for smartphones but for those who would like to enjoy it on the big screen, there is no support. Luckily we have a pretty simple workaround technique that is safe as well. Before downloading Tachiyomi, you first need to download another app called Android emulator. For those who have no idea, an Android emulator is a software with which you can run Android apps on your desktop or laptop. And this one works well on both Windows as well as Mac devices.
There are many emulators out there but my pick would be Bluestacks or Nox Player. Once you have downloaded it, just open the app and sign in with a Google account. It is would be better if you go with the same account that you use on your smartphone. This will help you get better sync results. Once done, just download the apk file from the official Github repository. As this app is not available on Google Play Store. After that, open the apk file on your emulator and install it right away. With that finally, you are all set to enjoy the manga content on your PC. The process holds true for both Windows and Mac.
SEE ALSO:
---
Conclusion: 
Lastly, the newer version v0.10.7 brings in a few bug fixes for Xiaomi devices and better functionality with Samsung S-pen and other minor changes. That being said, these become nullified on PC usage. In case this guide made any help consider sharing with your friends who are also fond of the manga.